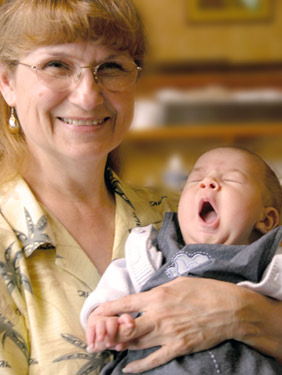 Photo: Carole with Jennifer.
One of her four grandchildren.
The Official Website for Carole Butler
Born Carole Gatesh in Toronto Canada 1945. Her parents, George and Kay Gatesh moved the family to Michigan in 1947.
She has two brothers, Ron Gatesh and Bob Gatesh.
Carole had three children with Dave Butler. Her oldest Clay lives in Santa Cruz, owns Claytowne Graphic Design and has a daughter with his partner Rosalee Schelstraete. Her second oldest Kevin Butler lives in Santa Cruz and is co-owner of Santa Cruz Surf Shop and Santa Cruz Skate Shop. Her youngest Lisa works in a specialty sock shop in Carmel and lives in Marina and with her three children, Alex, Saxon and Kyle.
Carole enjoys reading murder mysteries, playing Freecell and taking long walks along East Cliff Drive.